A few recent SPL videos, and the addition of 21ipal drivers to my Othorns has caused some discussion recently. I figured I'd stop hijacking threads and start one here.
To start, some information on the components of my system.
Subwoofers:
(2) Gjallarhorns (loaded with LMS 5400 Ultras)
(2) Othorns (loaded with B&C 21-IPAL drivers)
L/R Mains:
Dual AE TD18H+ in 9.5cu.ft 25hz ported boxes, SEOS-24 w/BMS 4594ND
Center:
AE TD15M in a 4cu.ft 45hz ported box, SEOS-12 w/Denovo DNA-360
Surrounds:
(4) Radian 5210 in .60cu.ft angled boxes. Crossovers designed/built by Matt Grant (mtg90)
Amplifiers:
(2) Crest CC5500 (one bridged to each Ghorn)
SpeakerPower SP2-12000 (powering the Othorns in stereo)
Crest Pro-Lite 7.5 (quad AE TD18H+)
Lab Gruppen IPD 2400 (SEOS-24 w/BMS 4594ND)
Crest CC4000 (center)
Behringer iNuke NU4-6000 (surrounds)
Processor, EQ, and Blu-ray:
Marantz AV7005
MiniDSP 10x10HD
Oppo BDP-93
HTPC
Misc:
For measurement equipment, I have a calibrated UMIK-1 from Cross Spectrum Labs, and a SPL Lab USB meter.
There are 6 circuits dedicated to the amp rack, and a 7th circuit also but that's shared with the room. The SpeakerPower amp is on a dedicated 240v 30A line, the Crest CC5500 amps are each on dedicated 30A 120v lines, and the Crest ProLite 7.5 is on a dedicated 20A 120v line.
The room is in a basement on a concrete floor that measures roughly 23'x12.5' with 8ft ceilings. The back wall behind the seating, as well as the right hand side wall are cinder block. The other two walls have two layers of 5/8" drywall.
Here's how the subs are positioned behind the TV: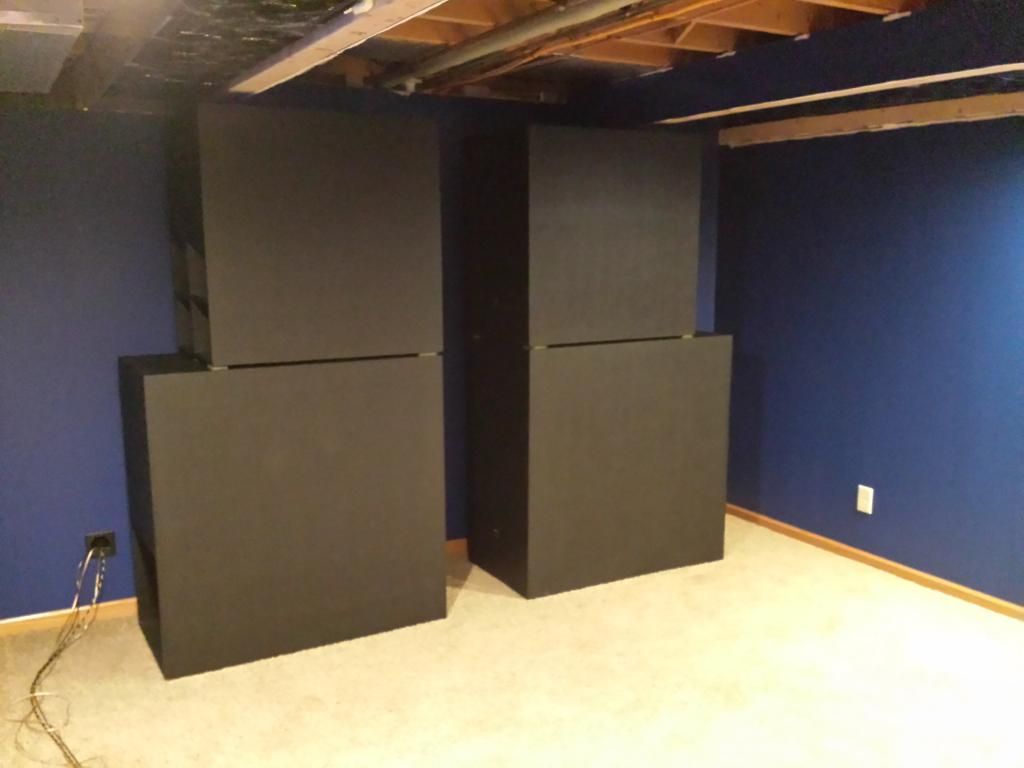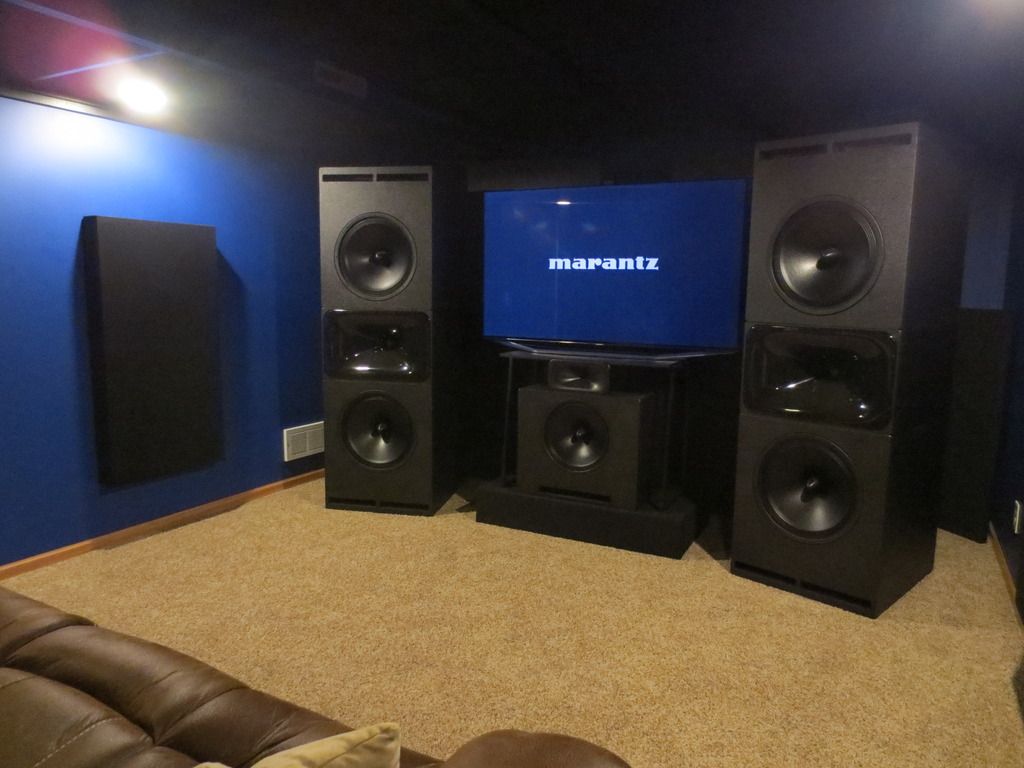 Here's the back of the room. Rear seating is on a riser: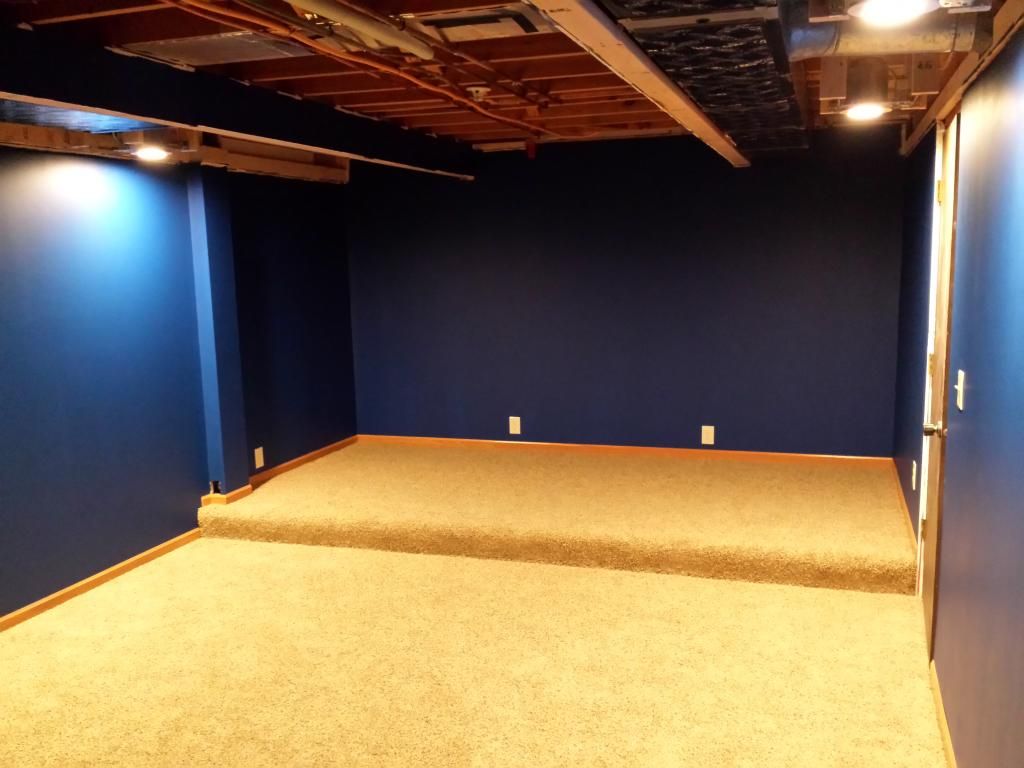 Here's the latest frequency response sweep at the main LP: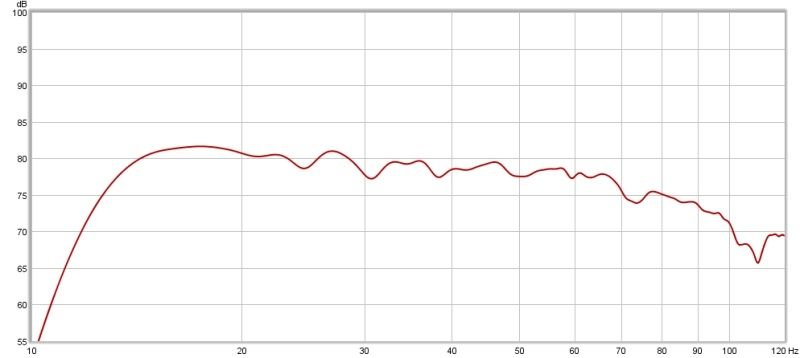 Impedance of the 21-IPAL loaded in an Othorn: